Tasting in
The medieval cellars
The Medieval Cellars,
but what exactly is that?
We met at the entrance to the Medieval Cellars, by Place de l'Hôtel de Ville, in Impasse Chamorin, which sits between a Japanese and an Indian restaurant. Apart from a small sign displaying "Caves Médiévales", there was no other hint of the treasure that lay hidden behind the modern doorway in this quaint little alley.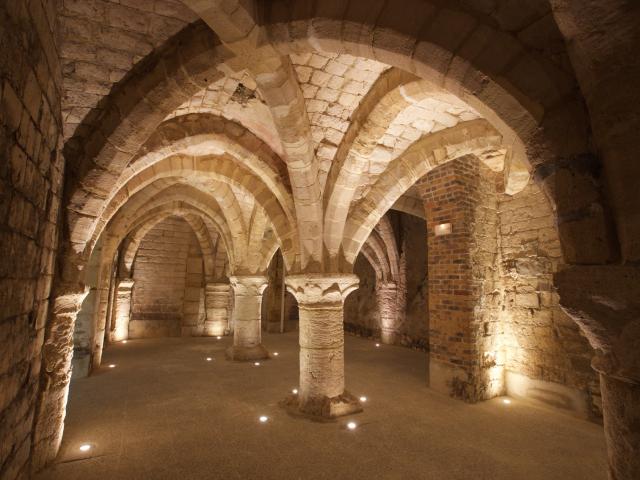 Anthony, an oenologist and sommelier at the Grande Boutique du Vin in Châlons was waiting for us. Once everyone had arrived, he accompanied us downstairs.
We were in the Medieval Cellars, a 200m2 "cave" which dates to the 13th and 15th centuries.
These cellars are a testament to the city's rapid growth in medieval times.
A tasting
with passion
Before beginning the tasting, Anthony gave us some time to explore this stunning location!
Settled around the tables, we listened attentively to this expert who knew everything about the wines he had chosen for us.
He invited us to taste three champagnes, each one as excellent as the next, and each very different, due to their terroir, their producers' story, and the production methods used.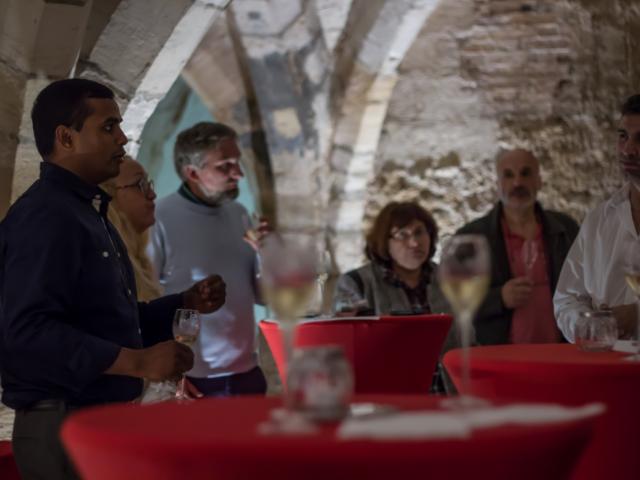 Anthony is an enthusiast, and you sense this throughout the tasting due to his pertinent and fascinating commentary.
We had a nice surprise to find that, for each champagne we tasted, he served us an accompaniment to nibble, which paired perfectly with the wines. The atmosphere was relaxed and friendly, tongues were wagging, and lots of questions were being asked. We felt great, (I would point out that it wasn't down to overindulging in this fabulous champagne) so much so, that we really didn't notice the time pass, almost an hour and half by the end of the tasting.
It was time to leave, taste buds still tingling, our phones full of photos and our heads full of memories to cherish!
Cheers!

Dégustation dans les Caves Médievales à Châlons-en-Champagne
Dégustation dans les Caves Médievales à Châlons-en-Champagne