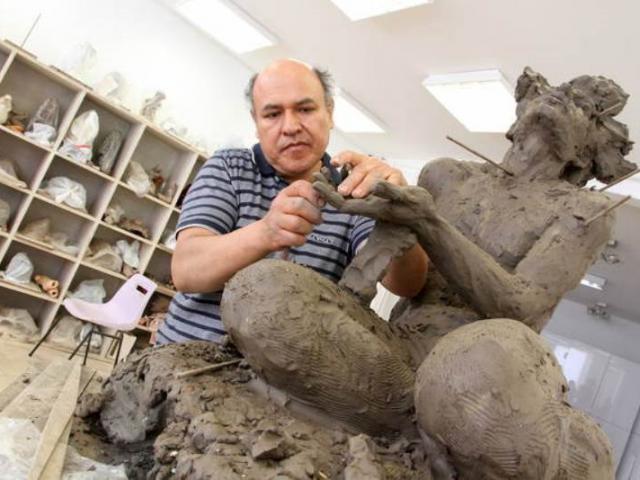 Juan Carlos Carrillo is an internationally renowned sculptor, who trained at the School of Fine Arts in Huaraz, Peru and then at the Pro Venètia School in Venice, Italy. He has received numerous awards for excellence in international sculpture competitions. His studio is now based in Châlons-en-Champagne where, with his help, you have the opportunity to try your hand at sculpture for a few hours.
Before getting down to work, or rather, down to work with the clay, Juan Carlos Carrillo shows us his studio and some of the hundreds of sculptures he has made in clay, bronze, marble, stone, wood, steel, resin and other materials, for which he has received numerous awards.
From a rectangle
to a hand
Juan Carlos explains that whatever the statue and the material used to make it, modelling in clay is always the first step of production. This is what we learned how to do today.
Each of us was seated at our desks and took a ball of clay. In the middle of us, our teacher of the day showed us how easily he handles clay. Within a few minutes, he had sculpted a perfect bust of a horse! Looking at him, we thought that it looked so easy…
Then it was our turn! To start off, he asked us to make a rectangle about 8 cm wide, 20 cm long and 3 cm thick. So far, so good! Then he asked us to try to manipulate it, to make one side thicker, to make a 3/4 length line, to cut a piece, and so on… Juan Carlos put on some classical music, the atmosphere was relaxed and we were completely absorbed…
At this point we all wondered what we were doing and then in a light bulb moment, we realised we were sculpting a hand! Juan Carlos then explained how to create the fingers. And, yes, it really started to resemble something.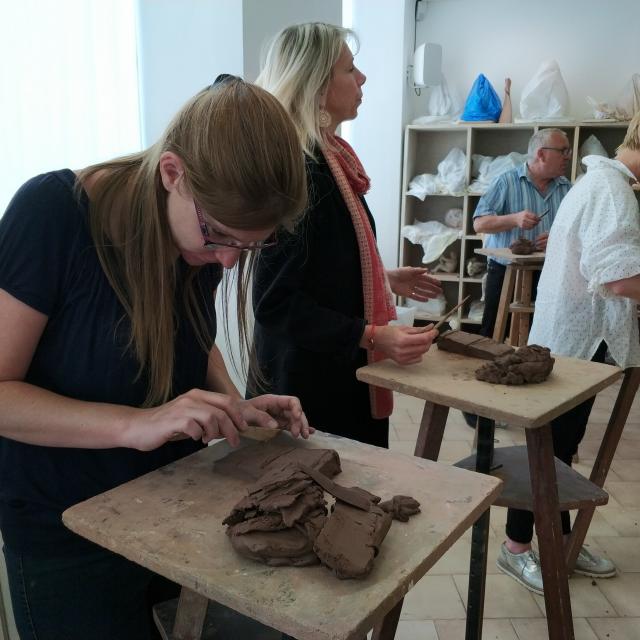 Time for us to get creative!
Devenir Sculpteur d'un Jour avec Juan Carlos Carrillo
Devenir Sculpteur d'un Jour avec Juan Carlos Carrillo
After that, we had to choose the shape we wanted to give to our hand. A closed hand, open hand, raised fist, thumbs up, hand signal, or even crossed fingers. We could do whatever inspired us.
The funny thing is that out of the fifteen, or so, of us taking part in the workshop, we all made a different hand. We each refined our sculpture using our hands as well as a small wooden knife. Juan Carlos helped us to perfect the more intricate details, such as the folds in the fingers, which are not easy to do.
At the end of the workshop, we all proudly had our hand sculpture in our possession. We could either keep them as a souvenir, or leave the clay at the workshop to be used again.
This was a really fantastic experience to be able to learn how to sculpt with a great master of the art, who is so easy to work with and has such a great ability to teach. Fantastic!
Practical information
To make sure you're well prepared
All year round.
By reservation only.
From 150€ for a minimum of 8 people.
Atelier Galerie Juan Carlos Carrillo
8 Bis place de Verdun
51000 Châlons-en-Champagne
Reservations at the Tourist Office:
03 26 65 17 89
a.lesueur@chalons-tourisme.com