Take a tour of the estate
We made our way over to the Vollereaux champagne house, located in the village of Pierry, 35 minutes from Châlons-en-Champagne and just a few kilometres from Epernay. Aurore greeted us in a lovely new reception area, with a simple yet refined decor.
To first whet our appetites, our visit began with a tour of the property. We took the path leading into the traditional cellars, which have the unique feature of being accessible at ground level, a rarity in Champagne. Many bottles are dormant or rather, are in the process of ageing, to delight our taste buds in years to follow. Others are just waiting to be opened and tasted.
Some bottles, including some larger containers, are still stirred by hand.
We also discovered the impressive vat room where the different grape juices from the harvest are processed, as well as seeing the traditional wine-making tools. Six generations of the Vollereaux family have succeeded one another to ensure the continuity of the House's expertise. Today, Franck oversees the business.
After visiting the property, we went to the vineyard for a picnic in the heart of the vineyard. Presented in a pretty little basket, it was entirely made up of delicacies from local producers, including charcuterie, cheeses, as well as tiramisu made with Biscuit Rose de Reims.
We sampled everything accompanied by a glass of champagne… and some water, of course! A real treat, especially as the view before us was simply stunning. We didn't want the day to end. It felt so wonderful to be in the midst of nature, surrounded by the vines.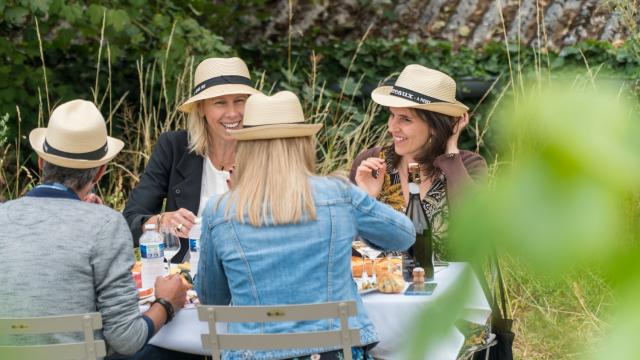 Un Pique-Nique au cœur des vignes avec le Champagne Vollereaux
Un Pique-Nique au cœur des vignes avec le Champagne Vollereaux

Practical information
To make sure you're well prepared
Around 3 hours:
11am: Guided tour of the cellars
11.45am: Champagne tasting
12 to 2pm: Picnic in the vineyards or in the press room in the event of bad weather
From April to September.
By reservation only.
€42/person (tour + tasting + picnic)
Minimum of 4 people.